Begin your 22-night cruise in Miami then discover the most elusive port of the Caribbean: Havana.  Cruise through the expanded Panama Canal also experiencing Cartagena, Costa Rica, Nicaragua, Guatemala, and the Mexican Riviera.  Relax with a sail across the Pacific from San Diego to Kahului to Honolulu. Perfect for Kama'aina!
Regent Seven Seas Cruises
the Most
Inclusive

Luxury Experience
The Ship
Exceeding the loftiest expectations for luxury
Seven Seas Mariner
A new level of elegance with dramatic culinary experiences and elegant guest spaces.
Itinerary
Cuba to Paradise
Ports of Call
Havana, Cuba; Cartagena; Panama Canal; Puntarenas; Corinto; Puerto Quetzal; Acapulco; San Diego; Kahului; Honolulu
live life luxuriously
The Most Inclusive Luxury Experience
Enjoy
Enjoy every day, exactly as you wish — with everything included, from excursions to fine wines and spirits and from gourmet restaurants to WiFi.
ITINERARY
Date       Port 
Oct 10    MIAMI, FLORIDA
Oct 11    HAVANA, CUBA
Oct 12-13  CRUISING CARIBBEAN SEA
Oct 14    CARTAGENA, COLOMBIA
Oct 15    PANAMA CANAL
Oct 16    AT SEA
Oct 17    PUNTARENAS, COSTA RICA
Oct 18    CORINTO, NICARAGUA
Oct 19    PUERTO QUETZAL, GUATEMALA
Oct 20    CRUISING THE PACIFIC OCEAN
Oct 21    ACAPULCO, MEXICO
Oct 22    CRUISING THE PACIFIC OCEAN
Oct 23    CABO SAN LUCAS, MEXICO
Oct 24    CRUISING PACIFIC OCEAN
Oct 25    SAN DIEGO, CALIFORNIA
Oct 26-30 CRUISING PACIFIC OCEAN
Oct 31    KAHULUI, UNITED STATES
Nov 01   HONOLULU, OAHU, HAWAII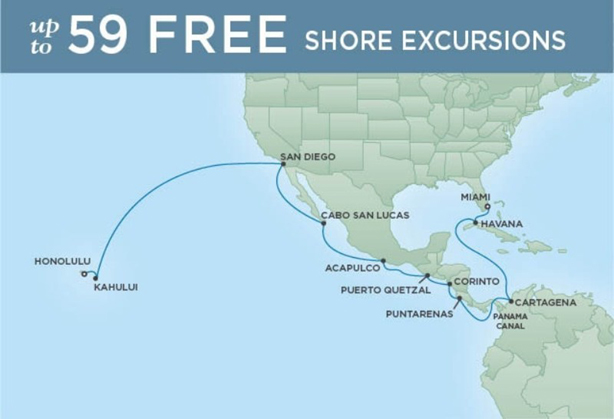 PRICING (For Hawaii Residents)
Category
Per
Person
Deluxe Veranda Suite H
$9,273.50
Concierge Suite     E
$10,273.50
Penthouse Suite    C
$13,773.50
Paul Gauguin Luxury Small-Ship Cruise Limited Time Offer , [...]
 NCL's  Kama'aina Cruise Special 7-Days on the Pride of America [...]
Regent Seven Seas: ALASKA Super Sale! Special Offerings  - [...]